Save The Guns
What have you done lately to protect this right?
This Page Last Updated 10/30/2013
Not an NRA Member? Shame on you!
We would not even be having this conversation on the topic of gun rights in America if it wasn't for the hard work and dedication of the National Rifle Association. You say that you don't have the money??? An Associate Membership (no magazine) is just $10.00 per year, that's less than three cents (-$0.03) each day. Before you do anything else, do your duty and support the NRA through your membership. JOIN THE NRA TODAY. You can save $10.00 on a regular annual membership by using the link I've just provided, making it just $25.00. JOIN TODAY.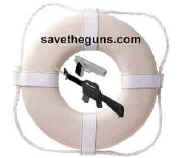 "The only thing necessary for the triumph of evil is for good men to do nothing."
Edmund Burke (1729-1797)
"Non-cooperation with injustice is a sacred duty."
Mahatma Gandhi (1869-1948)
"The truth of the matter is that you always know the right thing to do. The hard part is doing it."
Gen. H. Norman Schwartzkopf US Army retired
"The only sure bulwark of continuing liberty is a government strong enough to protect the interests of the people, and a people strong enough and well enough informed to maintain its sovereign control over the government."
Franklin D. Roosevelt (1882-1945), 32nd US President

95% of lawful and honest gun owners in the United States are not members of the NRA.
JOIN THE NRA AND GET OFF YOUR @$$

National Rifle Association Membership

"If ever a time should come, when vain and aspiring men shall possess the highest seats in Government, our country will stand in need of its experienced patriots to prevent its ruin."
Samuel Adams (1722-1803), was known as the "Father of the American Revolution."
If you are one of these "experienced patriots" spoken of by Samuel Adams in 1780, why aren't you an NRA Member? Come on, we need you!!!
There are more than 80 million law abiding gun owners in this nation. However, there are just over over four million (4,000,000) members of the National Rifle Association.
There are far, far too many law abiding gun owners who have not raised their voice in opposition to gun control measures advocated and passed by government.
The vast majority of law abiding gun owners are sitting on their hands when it comes to standing up for their rights. Some gun owners if you can believe it, are not even registered to vote. If you are not an active participant in defending the Second Amendment, you have absolutely NO right to complain when more firearm restrictions are put in place by our own government.
95% of America's Gun Owners should be totally ashamed of themselves because of their complacency, indifference and lack of ambition. Being "against the NRA" because you perceive them as being too weak or too compromising is not an excuse for not joining, rejoining or renewing your NRA Membership. Join, rejoin or renew your membership today and then work on changing the direction of the National Rifle Association to better suit your tastes.
The NRA is the largest, most powerful and longest standing pro-gun organization in the history of the world. The NRA is not going anywhere. You should never throw the NRA to the wolves of the anti-gun crowd simply because there's an issue or two in which you do not agree. That's like staying home of Election Day because no candidate thinks exactly like you do.

"Millions of Americans throughout our history have died on battlefields to ensure that freedom and liberty will continue to flourish within the borders of this country.
By not standing up to our own government and voicing our opinions on how government should run, we are taking the sacrifices of our veterans both dead and alive and holding them in contempt."
Marc H. Richardson, 1998 (from newspaper editorial)
---
---
Please remember the extraordinary and remarkable sacrifices of our military veterans and patriots. When we disagree with our elected officials and refuse to contact them or even to vote, try to remember the bloodstained footprints of Valley Forge due to the frozen feet of the Colonists.
Remember the U.S. Servicemen on D-Day under heavy fire, crawling up the beaches at Normandy.
Remember the U.S. Serviceman who spent more than 9 years as a Prisoner of War in Vietnam. Why do we seem to take our freedom for granted sometimes?
Freedom is not won with gold, money, politics or parchment.
Freedom is won with lead, steel, perseverance and courage.
---
---
"If you will not fight for right when you can easily win without bloodshed; if you will not fight when your victory will be sure and not too costly; you may come to the moment when you will have to fight with all odds against you and only a precarious chance of survival. There may be even a worse fate. You may have to fight when there is no hope of victory, because it is better to perish than to live as slaves."
Winston Churchill
"The things you refuse to meet today always come back at you later on, usually under circumstances which make the decision twice as difficult as it originally was."
Eleanor Roosevelt [Anna Eleanor Roosevelt] (1884-1963) Wife of US President Franklin D. Roosevelt
My roots in this great country go very, very deep. I am a Mayflower descendent and I have had family in this country since 1620. My ancestors have been a part of every conflict and event in the history of this nation and I for one will NOT stand idly by while this country is destroyed from within. If the course of events in this country continues in its current direction, the end of our Republic and our Constitutional Democracy is at hand. This CANNOT be allowed under any circumstances. I will not allow 14 generations of sacrifice and hard work be in vain. You shouldn't either. Together, we can change the course of events. Get Active!!!
"If men are to be precluded from offering their sentiments on a matter which may involve the most serious and alarming consequences that can invite the consideration of mankind, reason is of no use; the freedom of speech may be taken away, and dumb and silent we may be led, like sheep to the slaughter."
George Washington (1732-1799) Founding Father, 1st US President, 'Father of the Country'
Source: Address to officers of the Army, 15 March 1783
"He who does not bellow out the truth when he knows the truth makes himself the accomplice of liars and forgers."
Charles Peguy (1873-1914) French poet, essayist and editor
---
---
Let me take a moment to quote...
"We will have to repent in this generation not merely for the hateful words and actions of the bad people but for the appalling silence of the good people."
Martin Luther King, Jr. (1929–1968), U.S. clergyman, civil rights leader. Why We Can't Wait, "Letter from Birmingham Jail" (1963).
The appalling silence of the law abiding gun owner is the largest roadblock to the Second Amendment since the Redcoats.
Stop this appalling silence. If you are a lawful gun owner and not a member of the National Rifle Association, you are part of the problem. Participate in the solution. Join The NRA Today.
---
---
There are 168 hours in one week.
There are 10080 minutes in one week.
It takes about 5 minutes to send an E-mail to Congress using one of the links provided on the For Activists Only page.
In one week's time, you can send out more than two-thousand (2000) e-mails to your elected officials.
Can you find time this week to send just one?
---
---
With personal freedom, must come personal responsibility for one's own actions. When we have little personal responsibility for our own actions, our whole country suffers as a result.

One example of personal responsibility going out the window, are the recent lawsuits against the firearm industry. I find it difficult to understand the logic involved here.

Using the same exact logic, we can now sue the automobile industry because they manufacture vehicles that have the ability to break the speed limit.

It is not the fault of the auto industry when someone chooses to break the speed limit and someone dies as a result. Then why should it be the fault of the firearm industry when someone chooses to commit murder?

Suing the gun industry because of the illegal, immoral and uncivil, brain-dead, low-life scum of our society and their tendency toward murder has got to be the most inane and ridiculously absurd notion that I have seen in my life.
Gun control is the same thing as making it more difficult for sober people to buy vehicles, in an attempt to stop drunk driving deaths. Gun control laws sounds pretty stupid when you really think about it.
---
---
The average age of the world's greatest democratic nations has been 200 years. Each has been through the following sequence:

From bondage to spiritual faith.
From faith to great courage.
From courage to liberty.
From liberty to abundance.
From abundance to complacency.
From complacency to selfishness.
From selfishness to apathy.
From apathy to dependency.
And from dependency back again into bondage.
Can we escape this fate?
---
---
I once heard an owner of a para-military semi-automatic rifle criticize the National Rifle Association for allowing the government to impose a ban on his rifle. After speaking with him for a few moments, I came to realize that he:
Was not a member of the National Rifle Association.

Was not a member of a local gun club.

Has NEVER contacted ANY of his elected officials to express his opinion.

Has NEVER written to his local newspaper to voice his opinion and inform readers on how he felt.

Worst of all was the fact that he was not even registered to vote.
I gave him the tongue thrashing of his life. I accused him of being a lazy, slothful, lackadaisical, self-righteous do nothing who has absolutely no legitimate right to complain to anybody concerning the condition of his freedom. He then asked for an application to join the NRA and to start doing something.
"It should be the highest ambition of every American to extend his views beyond himself, and to bear in mind that his conduct will not only affect himself, his country, and his immediate posterity; but that its influence may be co-extensive with the world, and stamp political happiness or misery on ages yet unborn."
George Washington (1732-1799) Founding Father, 1st US President, 'Father of the Country'
Source: 1789 - letter to the Legislature of Pennsylvania, Ref: Maxims of George Washington, Schroeder, ed. (37)
---
---
Are you interested in becoming a member of the National Rifle Association?
For NRA Membership, Click Here
IF YOU OWN A FIREARM, ARE A CITIZEN OF THE UNITED STATES AND ARE NOT REGISTERED TO VOTE, YOU ARE PART OF THE PROBLEM THAT I AM TRYING TO SOLVE.
---
---
"The pen is mightier than the sword."
Anonymous
The pen truly is mightier than the sword and the keyboard is also mightier than the pen. The Internet is mightier than both the sword, keyboard and the pen. So use it to the fullest extent possible.
Wake up, smell the coffee and get active. There are many links on this Web site that make it easy to become an activist for the Second Amendment.
---
---
"Political power grows out of the barrel of a gun."
Mao Zedong (1893–1976), founder of the People's Republic of China. "Problems of War and Strategy," speech, 6 Nov. 1938 (published in Selected Works, vol. 2, 1961).
Political power does grow out of the barrel of a gun, and the law-abiding free Citizens of the United States, should ALWAYS retain the right to own and carry them. Any government that does not trust their Citizens with firearm ownership, is a government that should not be trusted. My sincerest hope is that we can continue to trust our own government. Our federal, state and local governments have moved to severely and relentlessly limit lawful firearm ownership, then they scratch their collective heads and wonder why there has been a huge upsurge in the formation of non-government militias. Hmmmm.
---
---
Think
Individual liberty is the cement that holds the foundation of the United States together. The vast majority of gun control laws diminish, undermine and destabilize this very principle. The individual freedom and liberty of the American Citizen is MUCH more important than the wants, needs and whims of government. To say anything else is making a Fascist statement.
Just seven (7) national governments killed over sixty-four million (64,900,000) people in the last century alone, each of these countries had severe restrictions on private firearm ownership.
Soviet Union (20,000,000)

Turkey (1,500,000)

Germany (13,000,000)

China (29,000,000)

Guatemala (100,000)

Uganda (300,000)

Cambodia (1,000,000)
______________________
64,900,000
The founders of the United States tried to guarantee the survival of the United States by making sure the people would always retain the right to keep and bear arms as a last resort and defense against tyranny. What.....you thought the Second Amendment was about hunting didn't you???? Hmmm, seems like you need a history lesson.
---
---
Of course not EVERY citizen should have the Right to Keep and Bear Arms. Those who SHOULD NOT have legal access to the firearm of their choice are:
Those who are too young or irresponsible.

Those who are convicted felons.

Those who have been legally adjudicated as being mentally incompetent.
---
---
The time to get active is far past. Our own government has resorted to suing the manufacturers of firearms for the illegal, uncivil and immoral use of their products. At best, this is absurd and preposterous. At worst, this is an underhanded backdoor attempt to subvert the Constitution of the United States.
Thank God that these cities who have saw fit to sue firearm manufacturers for crime are losing their credibility in our nation's court systems.
---
---
There has been a bill in Congress in nearly every session since the mid-eighties to repeal the Second Amendment. Isn't it strange how that fact has not gotten any press coverage?
Where has the spirit of freedom gone? Where were the Patriots, when our own government decided that the Second Amendment was a privilege and not a right? How has government gotten away with the usurpation of the right to keep and bear arms? What will you do today?
---
---
Is it possible that the Gun Control Act of 1968 was taken directly from Hitler's playbook?
See this and decide for yourself
---
---
"Guard with jealous attention the public liberty. Suspect everyone who approaches that jewel. Unfortunately, nothing will preserve it but downright force. When you give up that force, you are ruined."
Patrick Henry, Virginia's U.S. Constitution ratification convention.
---
---
What Can You Do To Help?
There are at least five ways that change can be affected in government and they can all be associated with boxes. The Soapbox, The Ballot Box, The Witness Box, The Jury Box and The Cartridge Box.
Jump up on your soapbox and make yourself heard. Register a Web site and start talking!

Always vote at the Ballot Box and never fail to do your duty when making the vote count.

Be a good and honest witness in every court case in which you might be involved.

Always be honored to serve in a jury. I served in a jury trial and was honored to be chosen as the jury foreman. Participate in a jury when called to do so, it's important.

In the past, history clearly shows us that the last resort the people have to protect and defend freedom is to do battle with the forces of evil in any way that you can. It's my sincere hope that the cartridge box will remain shut as a final method of changing government, but we should always retain this final solution.

Call, write or E-mail your local legislators and your United States Congressmen. If you don't know who they are then find out. Use the links below to find out who your legislators are. Find your State's Home Page to find your local legislator's names and addresses. Your State's Home Page can be found on my "Government Links" page. Contact them so often on these issues that they know your name.



Call, write or E-mail the White House. (Use White House E-mail link below).



Write an editorial, commentary or opinion to your local and statewide newspapers. If your local newspaper is online, you should be able to navigate to it from the link below. Legislators really do scan the editorial pages to try and gather public opinion on certain issues. Use the newspapers to full advantage.



Join a local gun club and be an active participant.



Join a statewide pro-gun group and be active within it. Find your State Firearm Association on this page.



Join the National Rifle Association and do what you can.



Take a child hunting or target shooting and make them realize that freedom is never free.



Write to the Governor of your state. Find your State Home Page on my "Government Links" page.



Write to the United States House Of Representatives Democratic and Republican Leadership. Tell the Democrats that they are barking up the wrong tree with respect to gun control. The Democrats have never been friendly to the Second Amendment and America's 80 million lawful and upstanding gun owners.



Write, call or e-mail the major national and local media outlets to voice your opinion when their "reports" seem slanted, biased or untruthful. When a media outlet concocts a poll with biased questions, call them on it. That has been a strategy of the media lately. They tend to twist questions so that any response would reflect that the participant supports gun control. Don't participate in polls with obviously biased questions. (See Links Page for links to the News Media) Check out MediaResearch.com for a great site about keeping the media in line.


Thoroughly review and sign a petition to help save our Second Amendment. Try going here and looking for a petition to read and sign. http://www.petitiononline.com/

The pen is mightier than the sword, but you have to actually write the letter, stamp it and mail it. Tens of millions of people feel the way I do about America and the Second Amendment, but they just don't get around to sending the letter.

If your legislators don't hear from you, they will assume that you like what they are doing!!

Complaining amongst ourselves over a cup of coffee at the local diner or at the gun club, does absolutely NOTHING.

GET INVOLVED NOW!!! OUR ELECTED OFFICIALS ARE HIRED BY US, THEY ARE NOT OUR MASTERS.

SOME OF OUR CAREER POLITICIANS THINK THEY ARE OMNIPOTENT
AND THEY KNOW BETTER THAN US. I THINK THAT SOME OF THEM ARE ACTUALLY MINI-TYRANTS WHO WANT TO IMPOSE THEIR BELIEF SYSTEMS ON THEIR CONSTITUENTS.

SOME OF THEM DON'T EVEN LET THEIR CONSTITUENTS INFLUENCE THEIR VOTE ON CERTAIN ISSUES.

CONCERNING THE 1998 GUN CONTROL ACT IN THE STATE OF MASSACHUSETTS, STATE LEGISLATORS RECEIVED LETTERS, E-MAILS AND PHONE CALLS OPPOSING THE ACT TO THE TUNE OF 300 TO 1. FOR EVERY ANTI-GUN SUPPORTER, THERE WERE 300 PRO-SECOND AMENDMENT ACTIVISTS WHO WERE COMPLETELY IGNORED.

AND THEY JUST SIT BACK IN THEIR $1500.00 LEATHER CHAIRS AND CALL IT POLITICS. Bull crap, it's not called politics, it's called fascism.

IT IS FAR PAST TIME THAT SOME OF AMERICA'S CAREER POLITICIANS SHOULD BE SENT BACK TO THE PRIVATE SECTOR.

BUT WE CANNOT SEND THESE POWERFUL INCUMBENTS BACK TO THE PRIVATE SECTOR IF 95% OF AMERICA'S GUN OWNERS ARE NOT DOING ANYTHING ABOUT IT.

WHAT IS THE MATTER WITH AMERICA'S 80 MILLION GUN OWNERS, DON'T YOU GUYS AND GALS CARE ABOUT THE CONSTITUTION AND THE FREEDOM THAT OUR FOREFATHERS FREELY DIED FOR???

---
---
What Would Work?
What type of legislation would work that would keep firearms away from criminals? Almost nothing. Criminals who are willing or inclined to commit the most violent and heinous crimes known to mankind will not concern themselves with obtaining a firearms permit, will not and have not concerned themselves with which guns they cannot own. Criminals are criminals because they disobey the law.
The only types of legislation that would work are the kind that the National Rifle Association has been pushing for decades.
Three Strikes and You're Out legislation (first pushed by the NRA.)



Project Exile type legislation. (pushed by the NRA)



Additional penalties should be added to a crime if a firearm is present or used by the perpetrators, specifically punishing those who choose a firearm to commit their crime with.



Actually enforcing the more than 23,000 laws already passed by government. Most gun control laws are not prosecuted when broken. A repeal of most existing gun control laws (which I would like to see), is not likely without a positive ruling on the Second Amendment by the United States Supreme Court.
Forging legislation that actually affects the sources of firearms used during the commission of a crime. Hint: 0.7% of them come from gun shows. 7/10ths of one percent. That's not a source of guns used in crime. 86.2% of the guns actually used in crime are obtained illegally and the rest are obtained fraudulently. Law abiding gun owners commit no crimes. Or is that too much logic for the liberal democrat to comprehend?
---
---
What Would Not Work?
More gun control legislation that only the law-abiding citizen would obey.



A ban on particular guns would only be obeyed by good people.



National gun or gun owner registration schemes will not work because criminals don't register themselves or their firearms. In fact, criminals are not required to register their firearms because of the provisions in the Fifth Amendment to the United States Constitution about self incrimination. Believe it or not.



A national permit program will not work because criminals don't concern themselves with such nonsense.



Like I just said, criminals are criminals because they disobey the law. Only those who obey the law, will obey a law controlling firearms.

Anyone that believes in their heart, that someone inclined toward murder, will observe and obey a gun control law, really ought to be thoroughly examined by a competent mental health professional and step outside their pathetic little dream world.

---
---
Neither the government or any of its agencies has an absolute duty to protect the individual citizen from crime or harm. If a citizen is harmed by a criminal during the commission of a crime, he/she cannot hold the police or the courts responsible. The individual free citizen of the United States is responsible for his/her own safety and well-being.
"There is no constitutional right to be protected by the state (or Federal) against being murdered by criminals or madmen. It is monstrous if the state fails to protect its residents against such predators but it does not violate the due process clause of the Fourteenth Amendment, or, we suppose, any other provision of the Constitution. The Constitution is a charter of negative liberties: it tells the state (gov't) to let people alone; it does not require the federal government or the state to provide services, even so elementary a service as maintaining law and order"
(Bowers v. DeVito, U.S. Court of Appeals, Seventh Circuit, 686F.2d 616 [1982]).
Do not be lulled into the common misconception that relying on the law enforcement community is all anyone needs to do to protect themselves and their families.
Law enforcement in general, does a wonderful job, but they cannot be everywhere at all times.
---
---

I Do Not Choose To Be A Common Man

It is my right to be uncommon...if I can; I
seek opportunity...not security. I do not
wish to be a kept citizen, humbled and dulled
by having the state look after me. I want to
take the calculated risk; to dream and to
build, to fail and to succeed. I refuse to
barter incentive for a dole. I prefer the
challenges of life to the guaranteed
existence; the thrill of fulfillment to the
stole calm of utopia. I will not trade
freedom for beneficence nor my dignity for a
handout. I will never cower before any master
nor bend to any threat. It is my heritage to
stand erect, proud, and unafraid; to think
and act for myself; enjoy the benefits of my
creations and to face the world boldly and
say, "This I have done, and this is what it
means to be an American." by Dean Alfrange

---
---
"If ye love wealth better than liberty, the tranquility of servitude better than the animating contest of freedom, go home from us in peace. We ask not your counsels or arms. Crouch down and lick the hands which feed you. May your chains set lightly upon you, and may posterity forget that ye were our countrymen."
Samuel Adams, speech at the Philadelphia State House, August 1, 1776.
I'm indirectly related to Samuel Adams and directly related to his cousin and second cousin. President John Adams and President John Quincy Adams.